The best of times, the worst of times… literature and writing tend to flourish in these extreme conditions. And so it is that utopia/dystopia is the theme for this year's Singapore Writers Festival. An annual celebration of local literary endeavors, inaugurated in 1986, the festival is now in its 27th run. Its longevity reminds us that in a country where literature as a subject has greatly diminished in the regular school curriculum, local writers of great imagination and passion still work long and hard at their craft.
Festival director and award-winning local poet Paul Tan, has kindly given UrbanWire 5 recommended reads by authors who will be at the Singapore Writers Festival.
And as he puts it, "We hope that through these familiar genres and stories, we can encourage students to read these books and meet their authors at the Festival!"
More details about where and when to catch these authors in person appear below.
1. Dead Man's Grip by Peter James
credit: crimeandpublishing.com
According to peterjames.com, solicitor Carly Chase survived a car accident that killed a teen undergrad, but her luck may be running out. This is because someone connected to the victim is bent on exacting revenge by killing everyone else who survived, and already has snuffed out 2 drivers. The police want the single mother to assume a new identity and go underground until the perpetrator can be found but she feels safer going on the offensive.
The seventh book in the Roy Grace series returns Detective Superintendent Grace as its recurring character, the series chronicles his life as he attempts to solve mysteries, sometimes even to prevent murder plans from being executed.
The renowned series was rewarded with 4 stars on goodreads.com, with Dead Man's Grip gaining rave reviews from literary treats and The Associated Press.
If you'd like to meet Peter James, head to the National Museum of Singapore on Nov 9 from 2.30pm to 3.30pm. He'll also be discussing criminal minds the same day from 5.30 to 6.30pm at the Singapore Arts Museum. Or have a meal with him on Nov 10 from 1pm to 2.30pm at Viet Lang, The Arts House.
2. Aunty Lee' Delights by Ovidia Yu
credit: Singapore Writers Festival
Aunty Lee's Delights, according to goodreads.com,revolves around the life of Rosie "Aunty" Lee, a widow who turned her back on the opportunity to be a "tai tai" [an idle rich lady devoted to the superficial pleasures of life, like luxury shopping] and eventually becoming the proprietor of one of Singapore's best loved home-cooked restaurants. The terminally curious lady's then forced to become an amateur sleuth when she realizes a connection between the absence of one of her wealthy guests at a dinner party and a death in a tourist spot in Singapore. Joining forces with her henpecked stepson and his social-climbing wife (Mark and Selina), a gay couple, an elderly Australian tourist couple whose visit appears to have a more insidious purpose, as well as a newbie rookie Police Commissioner (Raja), this motley crew realizes that Rosie's cooking is only one of her many talents, the other being her ability to track down clues better than the local law enforcement.
An award-winning novelist, short-story writer as well as a playwright, Yu only began focusing on fictional works 2 years ago at age 50 after quitting her work as a writer corporate writing manuals. People may view that as an insane choice, but it eventually paid off with Aunty Lee's Delights seeing her go on a book tour in America, and selling out her copies at Barnes & Noble, as soon as she autographed the last copy (at least that's what she told thestraitstimes.com).
In an interview with our national newspaper, Yu admits to almost being a doctor but she promptly switched to having a Masters in English after refusing to experiment on animals.
The risk-taker reveals that, like her heroine, she gets her inspiration from wandering around eavesdropping on conversations; only Yu does this in shopping centers.
Yu, the mastermind behind Aunty Lee's Delights will be at the National Museum of Singapore on Nov 2 for a panel discussion alongside other female Asian writers from 5.30pm to 6.30pm. If that doesn't suit you, catch her when she joins forces with Barbara Ismail and Maranna Chan on Nov 3 between 11.30am and 12.30pm to talk about unconventional sleuths at the Singapore Arts Museum.
3. Reluctant Fundamentalist by Mohsin Hamid
credit: Singapore Writers Festival
Using the frame story [where the main narrative is introduced to lead readers into smaller stories within] approach, The Reluctant Fundamentalist takes place at a café in Lahore, where the protagonist Changez recounts his failed love affair with an American woman that resulted in his leaving the US.
Synopsis (according to goodreads.com)
Changez's memoir of his time in America focused on both his personal and professional life. The Pakistani once led the immigrant's dream in the States, with stellar results at Princeton University that resulted in employment with Underwood Samson, an elite consultancy firm. He eventually becomes infatuated with Erica, an aspiring writer he meets while on vacation with his classmates. Initially spurned by Erica, who was getting over the death of her childhood sweetheart, the duo eventually formed a complicated relationship with a disastrous sexual encounter, resulting in her admission into a mental facility.
Set during the time of 9/11 attacks where Pakistanis were the pariahs of the American social hierarchy, the analyst slowly begins to question his morality as he continues to work for an American empire that has manipulated his home country. He swiftly reaches an epiphany – his dream doesn't have a fairytale ending attached to it.
This novel was adapted into a film of the same name, directed by Golden Lion Award winner Mira Nair, and starring Riz Ahmed and Kate Hudson. Director Nair read the unpublished manuscript and made the immediate decision to bring this from print to screen. It turned out to be a prudent choice as the film, which premiered at the 2012 Venice Film Festival, enjoyed a positive reception (with Yahoo! giving it 4/5 stars) and accolades, including Mira's win of the Peace Award at the 2013 German Film Festival.
The Singapore Writers Festival will be playing the film on Nov 9, from 10am to 11.30am, at SAM @ 8Q. Hamid will also be present for a post-film dialogue to discuss this work.
4. How to Get Filthy Rich in Rising Asia by Mohsin Hamid
credit: independent.co.uk
According to goodreads.com, this third book from Hamid follows the life of an unnamed and impoverished boy. He amasses a vast fortune through the most fluid and universally required necessity – water. Chronicling his move from the proverbial rags to riches, his material successes are secondary as he pursues his childhood sweetheart, someone he constantly crosses paths with. However, their on-and-off love affair was marred as a result of their shared past, which both were more than happy to escape from.
Hamid's work marries fiction and self-help lit, with chapter titles like "Work For Yourself" and "Don't Fall In Love" going beyond doling out advice and evolving into a narrative.
Aspiring writers can meet Hamid on Nov 10 between 2pm and 3pm, at the Drama Theatre of the School Of The Arts, as he discusses "the embodiment of fiction and reality in his works" at the Singapore Writers Festival. Those who are into politics may find the discussion (on Nov 10 between 5.30pm to 6.30pm at the National Museum of Singapore) about the truths of writing about politics particularly intriguing.
5. Run For Your Life by Lucy Hawking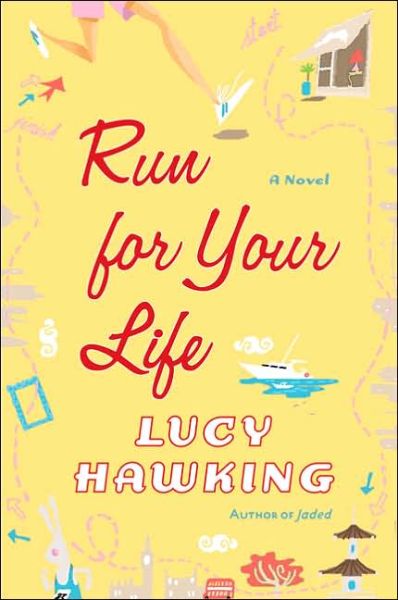 credit: barnes and noble
According to amazon.com, Fleur Bonner, your average 30-something with no career ambitions beyond her job as a knockoff antique seller. For a change in her humdrum existence, she agrees to join the motley crew of losers in the Battersea Park New Runner's Club as they train for the London marathon. However, this nobody ends up a jailbird after her boss disappears and she realizes that she was actually duped into selling forged art. Being thrown this curve ball, she now turns to fellow runners she once termed "misfits" for help.
The daughter of famous theoretical physicist Stephen Hawking, author Lucy Hawking has created some dramatic twists in the story. Prior to becoming a novelist (beginning in 2004 with Jaded), she was a journalist for publications such as The Daily Mail.
Lucy Hawking will be at the festival on Nov 9 between 2.30pm and 3.30pm at the Singapore Art Museum as she talks about how her father plays a great part in her writing career. For those into science, let's see what happens when Hawking meets founder of award-winning Darwin Online, John van Wyhe, as they discuss the possibilities of popularizing science on Nov 10 at Singapore Management University's Binary Pavilion from 2.30pm to 3.30pm.